Mitsuko Shimomura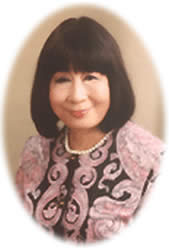 Genki Plaza is a spin-off of Center for Healthcare and Public Concern (Tokyo Kenbikyo-In) which was established in 1891. Genki Plaza took over the center's healthcare services and performs health screenings at workplaces, schools, and local communities. It also offers comprehensive medical checkups, outpatient services, a diabetes center, mental and physical counseling and a gender specific medical center for women. Shimomura received the International Athena Award from the Partnership for Womenfs Health at the Columbia University in 2002 for introducing gender-specific medicine to Japan.
As a journalist, Ms. Shimomura's specialty has been clarifying dialogues with the "movers and shakers" in the political, business, and the cultural elite's of America, Europe, and Japan. Traveling constantly throughout the world, she participates regularly in global forums debating the course of Japan's future world leadership responsibilities. She has profiled many of the world's leaders, and her more famous character essays also include encounters with international role models for women, from Mrs. Thatcher to Simone de Beauvoir to Betty Friedan.
Graduating from Tokyo's Keio University in Economics, she took a master's degree in the same subject at New York University's Graduate School of Arts and Sciences. She was a Nieman Fellow at Harvard University in 1987 - 88.
Ms. Shimomura chose journalism in 1965 to help promote people-people understanding and build bridges of mutual knowledge. Assigned to the Asahi Shimbun, Japan's leading newspaper (daily circulation: 8 million), she was offered many challenging special assignments in the middle East, the United States, Europe, Russia, China, etc., and wrote many articles.
Her two decades with Asahi Shimbun is a record of many "first woman"s in Japan: the first female foreign correspondent (Asahi Shimbun, New York, 1980), the first woman journalist to achieve Senior Staff Writer status, and the first woman Editor-in-Chief of a major national-circulation weekly magazine (Asahi Journal,1990-92). She was the first woman to receive the Vaughn-Ueda International Journalist Prize for outstanding international reporting (1982).
Having left the Asahi at the end of 1994, she now is continuing her extremely active career as an independent writer and journalist, TV commentator and public speaker.
At the same time, she was a member of Prime Minister's Economic Advisory Board. She also served as President of Fukushima Gender Equality Center for 10 years; Board Member of Renaissance Corporation; member of Foreign Service Personnel Committee, Ministry of Foreign Affairs; compliance committee member of East Nippon Expressway Company; member of Asahi Television Program Evaluation Committee, and Director of Asian Women's Fund.
In addition to her newspaper work, Ms. Shimomura has written more than 30 books including: Made in Japan - Akio Morita and Sony, written in1986 in collaboration and subsequently published in 25 languages. Other books include: Harvard Memories: Reflections on Japan and the U.S.; The Truth behind Japan Bashing; American Views of Japan; Front Page, Back Page; Japan's Outstanding Business Leaders, The World's Outstanding Business Leaders; The Eye of a Reporter - The Eye of a Woman; How Americans View Russia and the Soviet Union; How Russians View Americans and the U.S. - Soviet Relations; The Age of Cool Guys; The Secret of Success. Her latest book is Meaning of Life.
Among her best known translation for Japanese readers are The Second Stage (by Betty Friedan), The Hazards of Being Male (by Herb Goldberg), Beyond the Bottom Line (by Joel Makower), Up Against the Clock (by Marilin Fabe and Norma Wilker) , Eve's Rib (by Marianne J. Legato), Why Men Never Remember, Women Never Forget (by Marianne J. Legato).